Aspire Deco Kit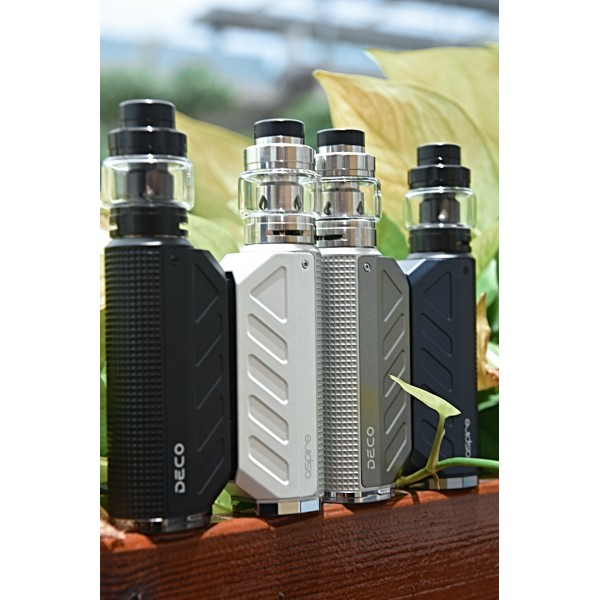 Aspire Deco Kit
L A V I S H D E S I G N - - - I N C R E D I B L E V A L U E .
The Deco Kit from Aspire has a beautiful architectural design, which is presented with a striking look and represents incredible value. This excellent sub-ohm combination is comprised of the Deco Mod and the Odan EVO Sub-Ohm Tank, an all-in-one world-class kit.
COMFORT IN HAND - Designed to be ergonomically superior, the Deco Mod has a texture and strength yet to be seen within this genre. Extremely comfortable and built with a precision engineered polygon grip texture, the Deco is a joy to use in all conditions. The 0.87" OLED screen is very simple and clear to read and help to adjust the parameters.
VV / VW / BYPASS / CPS - Switch output modes with easy operation; VV / VW / Bypass / CPS (C1/C2/C3) - 3 buttons for easy operation.
CPS MODE (WATTAGE CURVE MODE) - Get the best flavor performance by adjusting the output wattage om 0.5s increments.
MAXIMUM 100W / 80W OUTPUT - Compatible with two battery types, which provide different wattage output levels; with 21700 battery 1-100W / with 18650 battery 1-80W.
CONVENIENT BATTERY CHANGE - The Deco Mod is compatible with either a single 21700 battery or a single 18650 battery and makes it super easy to change on-the-go with the quick sliding door mechanism installed on the Deco.
Specifications:
Size: 136mm x 40mm x 28.8mm
Weight: 213g
Battery Capacity: Single 18650 / Single 21700

Output Wattage: 1-80W (single 18650) / 1-100W (single 21700)
Output Modes: VW / VV / Bypass / CPS (C1/C2/C3)
Screen: 0.87" OLED
Charging Port: Type-C
E-Liquid Capacity: 4.5mL
Coils: Compatible with Odan Coils
PRECISE AIRFLOW ADJUSTMENT - The Odan EVO Tank has two big airflow holes that can be adjusted by turning the bottom adjustment ring. You are sure to get very precise and strong airflow on each inhale.
SUPER EASY TOP FILLING - It's super easy to fill the Odan EVO Tank, simply unscrew the top cap to fill.
PREMIUM ODAN COILS - The Deco Kit is equipped with a 0.3Ω Mesh Coil (35W-45W) (pre-installed) and and extra 0.18Ω Mesh Coil. Both coils provide intense flavor, dense vapor, and an evenly refined operating temperature for thick cloud performance.
ASP CHIPSET SAFETY PROTECTION - The Deco Kit uses Aspire's self-developed ASP chipset which comes with the overall protection for safe use. Protections include vaping over-time protection, short circuit protection, overheating protection, low voltage protection, overcharge protection, and over-discharge protection.
Kit Contents:
1 x Deco Mod
1 x Odan EVO Tank
1 x Odan Mesh 0.3Ω Coil (pre-installed)
1 x Odan Mesh 0.18Ω Coil
1 x Glass Tube
1 x 18650 Adapter (pre-installed)
1 x Set of O-Rings
1 x Type-C Cable
1 x User Manual