Aspire BP 80 Pod Mod Kit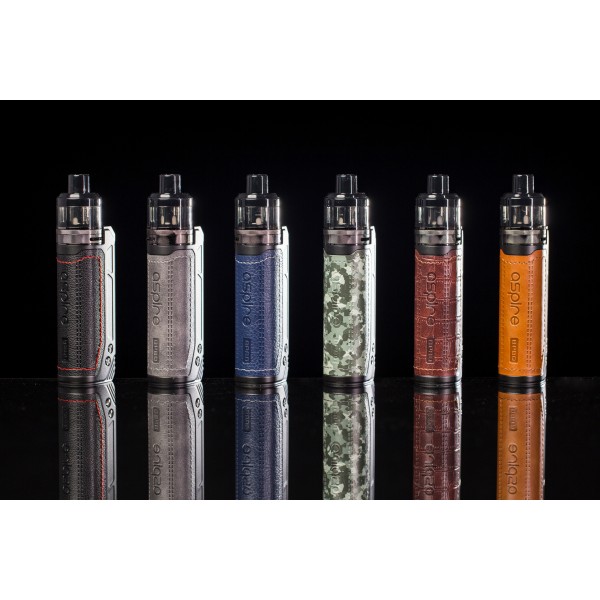 Aspire BP 80 Pod Mod Kit
B E Y O N D Y O U R I M A G I N A T I O N .
Inheriting the smart chip system and extreme performance of the BP 60 Pod Mod Kit, the Aspire BP 80 Kit has upgraded intelligence experience. With an ultra-fast heating response, it's super simple and easy-to-operate user interface (UI), together with the maximum 80W power output, makes the BP 80 preeminent and beyond your imagination. Designed with metallic zinc alloy and soft leather, the BP 80 achieves the combination of sleekness and ruggedness. The mechanical engineering coupled with retro aesthetics, the BP 80 exudes not only a strong visual impact upon first glance, but also has a great and ergonomically comfortable hand-feel.
Specifications:
Size: 118mm x 33mm x 26mm
Weight: 155.3g
Pod Parameters:
Capacity: 4.6mL
Material: Food Grade Nylon
Resistance: 0.17Ω Mesh Coil; 0.6Ω Double-Shot Coil; 0.3Ω Mesh Coil
Mod Parameters:
Battery Capacity: built-in 2500mAh
Output Wattage: 1-80W
Screen: 0.96" color screen
Charging Port: Type-C
Material: Zinc Alloy + Microfiber Leather
ENJOYABLE AIRFLOW WITH EVERY BREATH - With the ingenious airflow system, the BP 80 suits a wide range of vaping styles from wide-open and cloud-capable, to a tighter, more refined MTL setting.
Comfortable & Precise Airflow
Smooth Air Path
Double Unlimited Airflow Holes
Suitable for Different Coils & Parameter Settings
CREATIVE AND SMART CHIPSET SYSTEM - Aspire has created an all new smart chipset system, supporting seamless switches between Auto Mode and Manual Mode and an easy-to-read UI with detailed parameters and puff counter.
Auto Mode --- Vaping Made Easy
Automatically Detects the Attached Coil
Consistently Optimum Power Supply
Smart Wattage Suggestion
Maximum Wattage Protection
Intelligent Power Memory
Manual Mode --- Widely Adjustable
Adjustments From 1 to 80W
Perfectly Suited for your RBA Settings
Flexible Adjustment
PERSONALIZED UI SETTING - With the selectable UI color options and adjustable brightness, maximized to meet your personalized needs.
5 Screen Color Options
Brightness Adjustable
UNRIVALLED FLAVOR EXPERIENCE - The BP 80 standard version comes equipped with both a 0.17Ω Mesh Coil and a 0.6Ω Double-Shot Coil. The BP 80 is compatible with all BP Series Coils, even the RBA System. Get more flexibility with your coils!
Innovative Aspire Coil Technology
Intense Flavor & Dense Vapor Comparable to an RDA
100% Vaporization of the Original Taste of your E-Liquid
Fully Tested and Durable Quality for Long Lasting Coil Life
SUPER ENDURANCE ALL DAY, SUPER SERVICE - Large 2500mAh capacity battery for long working time, equipped with 2A Type-C quick charging.
DIFFERENT COLORS TO SUIT YOUR INDIVIDUAL STYLE - The BP 80 is available in 6 stylish leather colors; Charcoal Black, Navy Blue, Urban Camo, Reddish Brown, Retro Brown, and Granite Grey.
CONVENIENT BOTTOM FILL - Filling the BP 80 from the bottom of the pod, just lift the silicone seal to refill. Extremely convenient!
ASPIRE ASP CHIPSET FOR SAFETY PROTECTIONS - The BP 80 Pod Mod uses Aspire's self-developed ASP chipset, which comes with the overall protection for safe use. Protections include vaping over-time, short-circuit, overheat, low voltage, overcharge, over-discharge protections.
Kit Includes:
1 x BP 80 Device
1 x BP 80 Pod (4.6mL)
1 x BP 0.17Ω Coil
1 x BP 0.6Ω Coil
1 x Type-C Cable
1 x User Manual