Aspire BP 60 Pod Mod Kit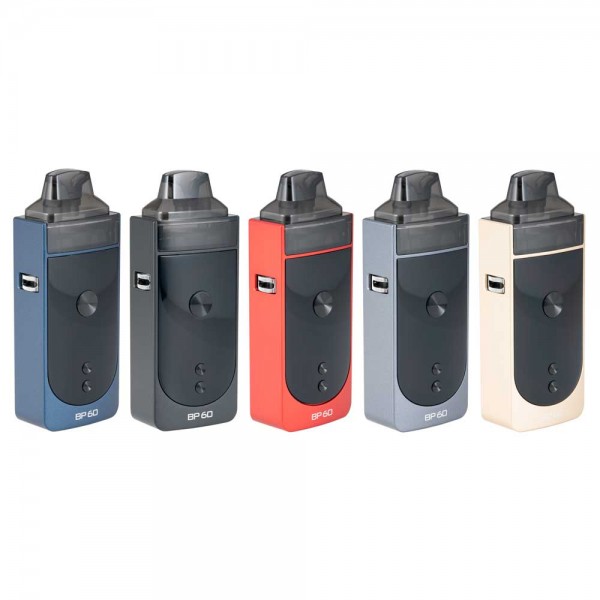 Aspire BP 60 Pod Mod Kit
T H E J O U R N E Y T O W A R D S P E R F E C T I O N .
You'll never imagine how wonderful a pod mod can be, until you meet the BP 60! The Aspire BP 60 is sleek and aggressive, stealthy and powerful, and it has all you need to customize the vape the way you like it. Aspire upped the performance with large color screen for on the fly adjustments, options to program for either auto-draw or button fire, and installed an adjustable 60-watt performance chip to dial in the power level to match your desired vape. With BP 60, you will experience extreme flavor satisfaction comparable to RDAs and dense vapor production.
Auto-Draw Button Fire
0.96" Color Screen
Smart Auto Mode / Manual Mode
MTL + DTL
Precise Airflow Adjustment
Wattage: 1-60W
INCREDIBLE FLAVOR ENHANCED BEYOND PREVIOUS LIMITS - The BP 60 smashes through the regular performance of a regular pod system. Not only does it provide an intense flavor, which is comparable to an RDA, it also comes equipped with fully tested coils that give it a smooth airflow. This incredible flavor performance is like vaping gastronomy!
PRECISE AIRFLOW ADJUSTMENT HARNESSES FLEXIBILITY - With a side-access airflow control system, BP 60 suits a wide range of vaping styles from wide open cloud-capable, to a smaller, more refined setting best suited for comfortable and precise airflow according to different coils.
ULTRA-EFFICIENT AIRFLOW ORGANIZATION - Precise airflow control, smooth air path, maximum air diffusion.
ONE PURCHASE, MULTIPLE EXPERIENCES - Two coil options to choose from...
Intense flavor
Dense vapor
Evenly refined operating temperature
Consistent firing ramp-up time
Dual heating wires
Rich flavor comparable to an RDA
100% vaporize the original taste of your e-liquid
Lasting coil life for long-time use
AUTO DRAW? BUTTON FIRE? WHY NOT BOTH! - The BP 60 can be activated by both pressing the fire button or using the auto draw function.
DUAL INDEPENDENT AIR SWITCHES - The special high post design of air switches will prevent condensation and work efficiently no matter how you attach the pod.
PREMIUM PROTECTION, TRAVEL EASILY - The included dust cap keeps the device clean during transportation, teamed with a useful cord string for the cap, the BP 60 is ready for journeys.
TOP SIDE FILL - A strong, simple, magnetic connection helps locate and secure the pod to the battery body of the BP 60. Just a simple lift and the two can be separated for coil servicing and filing.
Specifications:
Size: 99mm x 38mm x 23mm
Weight: 93g
Pod Parameters:
Capacity: 5mL
Material: PCTG
Coil Material: Kanthal AF
Mod Parameters:
Built-in Battery Capacity: 1400mAh
Output Wattage: 1-60W
Screen: 0.96" Color Screen
Fire Mode: Auto-Draw or Button Fire
Charging Port: Type-C
Frame Material: Aluminum Alloy
LAST FOREVER WITH QUICK CHARGING - Equipped with a large 1400mAh fixed battery, you can charge easily with a Type-C 5V/2A cable for faster charging times.
ASPIRE ASP CHIPSET - For safety features, the BP 60 includes vaping overtime protection, short-circuit protection, overheat protection, low voltage protection, overcharge protection, and max power protection.
Kit Includes:
1 x BP 60 Device
1 x BP Pod 5mL
1 x BP 0.6Ω Coil
1 x BP 0.3Ω Coil
1 x Type-C Cable
1 x User Manual
1 x Cord String