Advken Dark Mesh Tank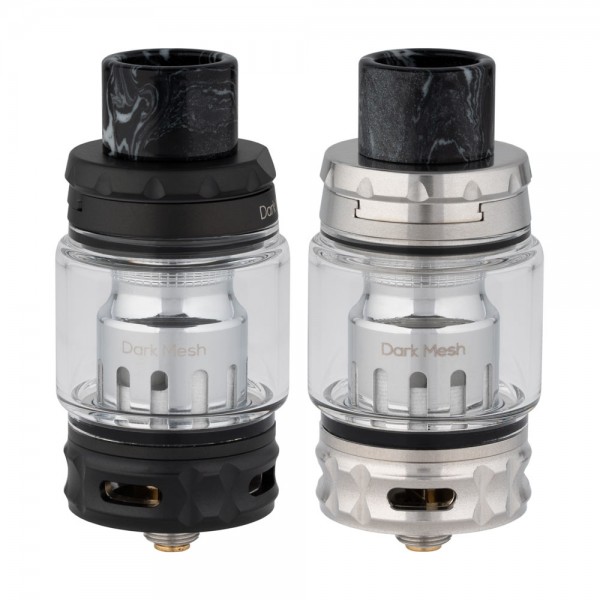 Advken Dark Mesh Tank
The Dark Mesh Tank from Advken is constructed from 304SS material, making it an extremely durable tank. The e-juice capacity can be switched from 5mL to 6mL, depending on which coils are used. It is compatible with 0.15Ω Triple Mesh Coil and a 0.15Ω Single Mesh Coil, both producing huge clouds. With the top slide refilling design, you can refill it easily and effectively prevent leaking problems. It also has a convenient adjustable bottom airflow system.
Size: 25mm x 54.5mm
Deck: 304 Stainless Steel
Thread: Adjustable 510
Working Wattage: 40-110W
Adjustable Bottom Airflow
High output Single Mesh and Triple Mesh Coils
Capacity: 5mL (with Triple Mesh Coil); 6mL (with Single Mesh Coil)
Top Refilling
810 Resin Drip Tip
Weight: 75g
Overall 54.5mm in height and 28mm in diameter allowing a large 6mL capacity (optional 5mL capacity). With a 27mm diameter deck and wide bore comfortable Resin drip tip, the Dark Mesh tank is optimized for flavor and vapor production. It also adopts the newly designed Slide to Fill top fill mechanism – a simple slide of the top cap then you can fill the tank at ease.
The tank comes with two different Kanthal Wire Mesh Coils:
Single Mesh 0.15Ω Coil
Rated: 50-80W
Triple Mesh 0.15Ω Coil
Rated: 80-110W
Box Contents:
1 x Dark Mesh Tank

1 x Triple Mesh

0.15Ω Coil (pre-installed)
1 x Extra Single Mesh 0.15Ω Coil
1 x Spare Bubble Glass
1 x Cleaning Cloth
1 x Accessories Bag
1 x User Manual