AAAvape Finesse AIO Pod System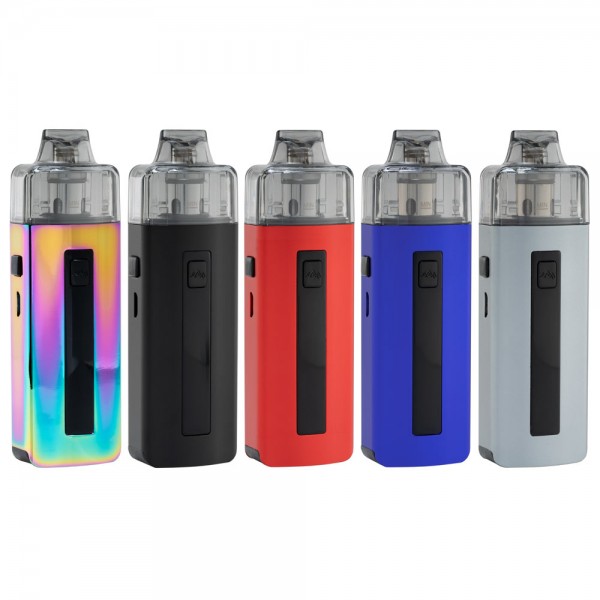 AAAvape Finesse AIO Pod System
The Finesse 30W Pod System from AAAvape has a specially designed mesh and ceramic coil for nicotine salts and CBD liquids or concentrates.
The Finesse is a compact and discreet salt nicotine vaporizer, combining an internal 1000mAh rechargeable battery and extensive coil options of mesh (for regular e-juice & nicotine salts) and ceramic coils (for CBD and nicotine salts). It also possesses an easy to read OLED display screen.
Specifications:
Bottom Airflow Pod System 2.7mL
OLED Screen shows puff and battery information
Pod Connection: button activated snap-fit
Pod Weight: 17.8g
Wattage: 5-32W (auto adjusts to atomizer)
Output Voltage: 3.1V-4.2V
Charge Time: 70 Minutes
Size: 102.6mm x 32mm x 20.1mm
Atomizer: Multiple Options Available
FMC Mesh 0.6 Ohm Coil (16-20W)
-recommended for Regular E-Liquid (for sub-ohm vaping)
FMC Mesh 1.6 Ohm Coil (9-12W)
-recommended for CBD / Nicotine Salt / Regular E-Liquid (for MTL vaping)
Lightweight --- Compact design, easy to carry, and fits easily in pocket.
Specially designed mesh and ceramic coils --- providing great flavor for CBD, Nicotine Salts, and Regular E-liquids.
Easy-to-read OLED display to keep track of resistance, puff count, puff duration, and battery status.
Refillable pods and reusable atomizer.
Plug & Play atomizer replacement design.
AIO (All-in-One) System makes vaping simply and enjoyable.
Auto-adjustable 5-32W --- 1000mAh built-in battery.
Direct voltage output.
Drip tip protective cap.
Kit Contents:
1 x Finesse Device
1 x FMC Mesh 0.6 Ohm Coil (16-20W)
1 x FMC Mesh 1.6 Ohm Coil (9-12w)
1 x Extra O-Ring Set
1 x Mouthpiece Cap
1 x Micro USB Cable
1 x User Manual