AAAvape Cub 30W Starter Kit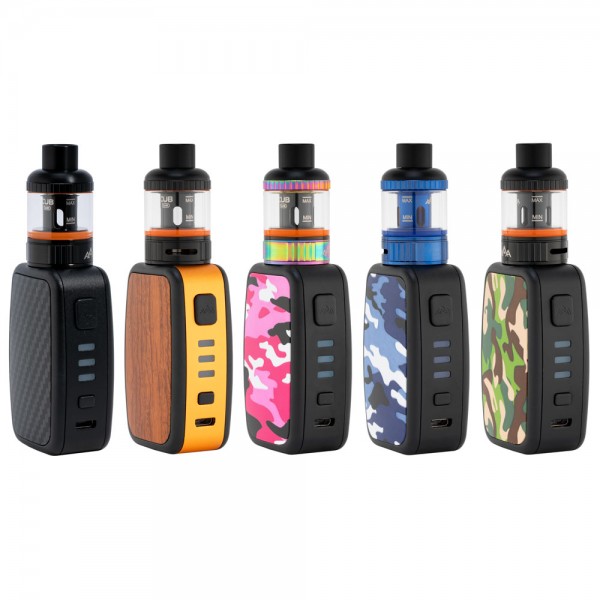 AAAvape Cub 30W Starter Kit

L I G H T W E I G H T M I N I M O D S Y S T E M .
The AAAvape Cub 30W Starter Kit is an extremely lightweight mini mod system with an internal 1000mAh battery and a 2mL mini top-fill tank. The Mini Mod has three positioned voltage settings; 3.3V, 3.6V, and 3.9V. The Cub Tank can provide pure, unadulterated taste with the specially designed atomizer with Mesh Coil, Flat Coil, Dual Coil, and a Ceramic Coil for CBD, nicotine salt, and regular e-liquid.
Specifications:
Tank Dimension: 22mm (diameter) x 39.3mm (length including mouthpiece)
Net Weight: 38g
E-Liquid Capacity: 2mL
Cub Mod Dimesions: 62mm x 38mmx 26mm
Cub Mod Dimensions with Tank: 101.3mm x 38mm x 26mm
Cub Mod Net Weight: 56g
Wattage: 3-30W
Standby Current: <20uA
Output Voltage Range: 3.3V-3.9V
Orange - High 3.9V / Purple - Medium 3.6V / Yellow - Low 3.3V
Current Battery Charge Status: Three color lights
Red - 30% / Blue - 30%-70% / Green 70% or higher
Resistance Range: 0.4-3.0 Ohms
Multiple Coil Options Available:
FMC Mesh 0.6 Ohm Coil (16-20W)
-recommended for regular e-liquid (for regular sub-ohm use)
FMC Mesh 1.6 Ohm Coil (9-12W)
-recommended for CBD / Nicotine Salt / Regular E-Liquid (for MTL vaping)
Internal 1000mAh battery provides long run time.
Specially designed atomizer with Mesh & Flat Coil, dual coil for CBD / Nicotine Salts / Regular E-Liquid.
Adjustable Airflow.
Super small size makes it pocket friendly, great for stealth vaping.
Convenient top-fill system.
Delrin mouthpiece and upper deck for heat insulation and enhanced flavor.
Kit Contents:
1 x Cub Mod
1 x Cub Tank
1 x FMC Mesh 0.6 Ohm Coil (16-20W)
1 x FMC Mesh 1.6 Ohm Coil (9-12W)
1 x Extra O-Ring Set
1 x Regular 2mL Glass Tube
1 x Micro USB Cable
1 x User Manual