AAAvape Anulax Tank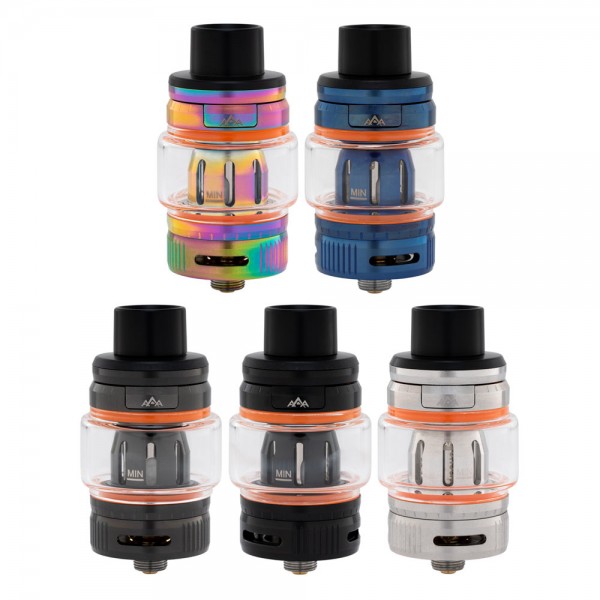 AAAvape Anulax Tank
S U B - O H M M E S H C O I L S Y S T E M .
The Anulax Sub-Ohm Tank from AAAvape is an innovative tank, combining features like a hinged top-fill system and dual slotted airflow control ring. The Anulax has access to the AAAvape Anulax Coil Family, including exclusively designed Anulax hexagonal stainless mesh coil (AMC), the industry's first flat coil and triple coil.
Diameter: Base 24mm / Bubble Glass Tube 28mm
Length (including mouthpiece): 52.6mm
Net Weight: 53g / 54g
E-Liquid Capacity: 5mL (Bubble Glass Tube) / 3mL (Straight Glass Tube)
Threading: 510
Resistance & Suggested Coil Wattage:
AMC Mesh 0.15Ω Coil (50-60W)
AFC Triple 0.4Ω Coil (55-65W)
Plug and Play design makes replacing the atomizer easier and quicker.
Large clouds with low wattage equals power-saving and juice efficiency.
Delrin mouthpiece and upper deck for heat insulation and enhanced flavor.
Gold-plated electrical contact pins to ensure full power.
Box Contents:
1 x Anulax 5mL Tank (Bubble Glass pre-installed)
1 x AMC Mesh 0.15 Ohm Coil (50-60W)
1 x AFC Flat 0.4 Ohm Coil (55-65W)
1 x Standard 3mL Glass Tube
1 x Pack of Replacement O-Rings
1 x Warranty Card
1 x User Manual